by Yehuda HaLevi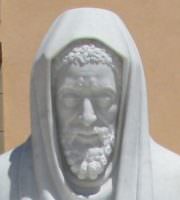 Shalom, Mount Avarim. Blessed be your slopes.
Somewhere on you the greatest of men was gathered,
Sacred bones now buried deep in your side.
If you do not know him, ask the Red Sea,
Ask the green bush, ask Sinai, and they will tell you:
"He was not a man of words, but he did God's work."
I have vowed to visit you soon, God willing.
Last updated July 05, 2015