by Arthur Rimbaud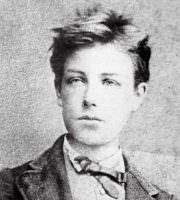 A winding movement on the slope beside the rapids of the river.
The abyss at the stern, The swiftness of the incline,
The overwhelming passage of the tide,
With extraordinary lights and chemical wonders.
Lead on the travelers Through the wind spouts of the valley
And the whirlpool. These are the conquerors of the world,
Seeking their personal chemical fortune;
Sport and comfort accompany them;
They bring education for races, for classes, for animals
Within this vessel, rest and vertigo. In diluvian light,
In terrible evenings of study.
For in this conversation in the midst of machines,
Of blood, of flowers, of fire, of jewels,
In busy calculations on this fugitive deck,
Is their stock of studies visible, --
Rolling like dike beyond The hydraulic propulsive road,
Monstrous, endlessly lighting its way --
Themselves driven into harmonic ecstasy
And the heroism of discovery.
Amid the most amazing accidents,
Two youths stand out alone upon the ark, --
Can one excuse past savagery? --
And sing, upon their watch.
Original French
Mouvement
Le mouvement de lacet sur la berge des chutes du fleuve,
Le gouffre à l'étambot,
La célérité de la rampe,
L'énorme passade du courant,
Mènent par les lumières inouïes
Et la nouveauté chimique
Les voyageurs entourés des trombes du val
Et du strom.
Ce sont les conquérants du monde
Cherchant la fortune chimique personnelle ;
Le sport et le comfort voyagent avec eux ;
Ils emmènent l'éducation
Des races, des classes et des bêtes, sur ce Vaisseau.
Repos et vertige
À la lumière diluvienne,
Aux terribles soirs d'étude.
Car de la causerie parmi les appareils, - le sang ; les fleurs, le feu, les bijoux -
Des comptes agités à ce bord fuyard,
- On voit, roulant comme une digue au delà de la route hydraulique motrice,
Monstrueux, s'éclairant sans fin, - leur stock d'études ;
Eux chassés dans l'extase harmonique,
Et l'héroïsme de la découverte.
Aux accidents atmosphériques les plus surprenants,
Un couple de jeunesse s'isole sur l'arche,
- Est-ce ancienne sauvagerie qu'on pardonne ?
Et chante et se poste.
Last updated July 05, 2015