by Arthur Rimbaud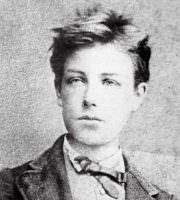 Bluish roofs and white doors
As on nocturnal Sundays,
At the town's end,
the road without Sound is white,
and it is night.
The street has strange houses
With shutters of angels.
But look how he runs towards a Boundary-stone,
evil and shivering, A dark cherub who staggers,
Having eaten too many jububes.
He does a cack : then disappears :
But his cursed cack appears,
Under the holy empty moon,
A slight cesspool of dirty blood !
Last updated November 03, 2022