by Arthur Rimbaud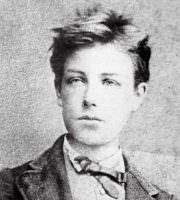 Cap of silk moiré, little wand of ivory,
Clothes very dark.
Paul watches the cupboard,
sticks out little tongue at pear,
Prepares, gives a poke, and squitters.
Original French
Jeune goinfre
Casquette
De moire,
Quéquette
D'ivoire,
Toilette
Très noire,
Paul guette
L'armoire,
Projette
Languette
Sur poire,
S'apprête
Baguette,
Et foire.
Last updated August 18, 2022