by Patience Worth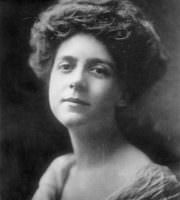 My love is a necklet of pence.
Each day I add a disc. If I
Be spending mine hours for the worth of it,
Would that my love were sunlight filtering
Through gloom. Yea, would that my love
Had the power to lighten the dusk of sorrow,
Melting the moonlight of remorse
Into daylight with a magic touch.
Lord, before I knew Thee, my lips were the bank
Of a chattering brook, which ran words, surging,
Inquiring, impudent, faltering, sure-tuned,
Accusing. I was a child with a purse
Of stones, each a cutting pebble,
A little word which I might cast at Thee.
How sure my argument! How self-tuned
My assertions! Lo, I bethought me, that my wisdom
Was a strange goddess, whose heal
Was crowned with laurels, whose neck
Was thick and strong, whose hands were creative,
At whose breasts puny man suckled to exist.
Before I knew Thee, Lord!
Yet, knowing Thee-I saw my wisdom
A shabby little dolt with warped legs;
With a neck so thin, that any man
Might snap it twixt his thumb and finger;
Whose breast was dry, and men,
Passing by the way, who thirsted-coughed!
Last updated January 14, 2019