by Ivor Gurney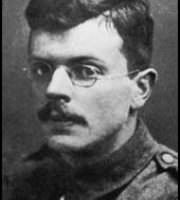 The miles go sliding by
Under my steady feet,
That mark a leisurely
And still unbroken beat,
Through coppices that hear
Awhile, then lie as still
As though no traveller
Ever had climbed their hill.
My comrades are the small
Or dumb or singing birds,
Squirrels, field things all
And placid drowsing herds.
Companions that I must
Greet for a while, then leave
Scattering the forward dust
From dawn to late of eve.
Last updated July 01, 2015