by Robert Greene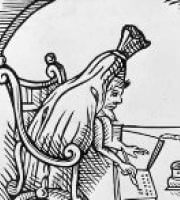 An ant and a grasshopper, walking together on a
green, the one carelessly skipping, the other carefully
prying what winter's provision was scattered in the way; the grasshopper
scorning (as wantons will) this needless thrift, as he termed it,
reproved him thus;
" The greedy miser thirsteth still for gain;
His thrift is theft, his weal works others woe:
That fool is fond which will in caves remain,
When 'mongst fair sweets he may at pleasure go. "
To this, the ant, perceiving the grasshopper's meaning, quickly replied;
" The thrifty husband spares what unthrift spends,
His thrift no theft, for dangers to provide:
Trust to thyself; small hope in want yield friends:
A cave is better than the deserts wide. " In short time these two parted, the one to his pleasure, the other to his labor. Anon harvest grew on, and reft from the grasshopper his wonted moisture. Then weakly skips he to the meadows' brinks, where till fell winter he abode. But storms continually pouring, he went for succour to the ant, his old acquaintance, to whom he had scarce discovered his estate, but the little worm made this reply;
" Pack hence, " quoth he, " thou idle, lazy worm;
My house doth harbour no unthrifty mates:
Thou scorn'd'st to toil, and now thou feel'st the storm,
And starv'st for food, while I am fed with cates:
Use no entreats, I will relentless rest,
For toiling labour hates an idle guest. " The grasshopper, foodless, helpless, and strengthless, got into the next brook, and in the yielding sand dug himself a pit: by which likewise he engraved this epitaph;
" When spring's green prime array'd me with delight,
And every power, with youthful vigour fill'd,
Gave strength to work whatever fancy will'd,
I never fear'd the force of winter's spite.
" When first I saw the sun the day begin,
And dry the morning's tears from herbs and grass,
I little thought his cheerful light would pass,
Till ugly night with darkeness enter'd in;
And then day lost I mourn'd, spring past I wail'd;
But neither tears for this or that avail'd.
" Then too, too late, I prais'd the emmet's pain,
That sought in spring a harbour 'gainst the heat,
And in the harvest gather'd winter's meat,
Perceiving famine, frosts, and stormy rain.
" My wretched end may warn green-springing youth
To use delights, as toys that will deceive,
And scorn the world before the world them leave,
For all world's trust is ruin without ruth.
Then bless'd are they that, like the toiling ant,
Provide in time 'gainst woeful winter's want. With this the grasshopper, yielding to the weather's extremity, died comfortless without remedy. Like him myself: like me, shall all that trust to friends or time's inconstancy. Now faint I of my last infirmity, beseeching them that shall bury my body, to publish this last farewell, written with my wretched hand.
Last updated September 24, 2017