by Robert Greene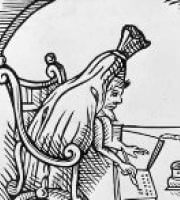 The swans whose pens as white as ivory,
Eclipsing fair Endymion's silver love,
Floating like snow down by the banks of Po,
Ne'er tun'd their notes, like Leda once forlorn,
With more despairing sorts of madrigals,
Then I, whom wanton Love hath with his gad
Prick'd to the core of deep and restless thoughts.
The frolic youngsters Bacchus liquor mads,
Run not about the woods of Thessaly,
With more enchanted fits of lunacy,
Than I, whom Love, whom sweet and bitter Love,
Fires, infects with sundry passions;
Now lorn with liking over-much my Love,
Frozen with fearing if I step too far,
Fired with gazing at such glimmering stars
As stealing light from Phoebus' brightest rays,
Sparkles and sets a flame within my breast.
Rest, restless Love; fond baby, be content;
Child, hold thy darts within thy quiver close;
And, if thou wilt be roving with thy bow,
Aim at those hearts that may attend on love.
Let country swains and silly swads be still,
To court, young wag, and wanton there thy fill!
Last updated October 11, 2017