by Robert Greene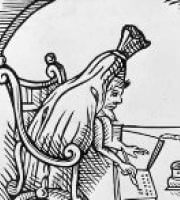 The stately state that wise men count their good:
The chiefest bliss that lulls asleep desire
Is not descent from kings and princely blood,
Ne stately Crown ambition doth require,
For birth by fortune is abased down,
And perils are comprised within a Crown.
The Sceptre and the glittering pomp of mace,
The head impaled with honour and renown,
The Kingly throne, the seat and regal place,
Are toys that fade when angry fortune frown.
Content is far from such delights as those,
Whom woe and danger do envy as foes.
The Cottage seated in the hollow dale,
That fortune never fears, because so low,
The quiet mind that want doth set to sale
Sleeps safe when Princes seats do overthrow:
Want smiles secure, when princely thoughts do feel
That fear and danger treads upon their heel.
Bless fortune thou whose frown hath wrought thy good:
Bid farewell to the Crown that ends thy care,
The happy fates thy sorrows have withstood,
By signing want and poverty thy share.
For now content (fond fortune to despite)
With patience lows thee quiet and delight.
Last updated September 24, 2017