by Robert Greene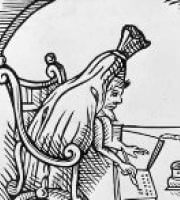 As then the sun sat lordly in his pride,
Not shadow'd with the veil of any cloud,
The welkin had no rack that seem'd to glide,
No dusky vapour did bright Phoebus shroud;
No blemish did eclipse the beauteous sky
From setting forth heaven's secret-searching eye.
No blustering wind did shake the shady trees,
Each leaf lay still and silent in the wood;
The birds were musical; the labouring bees
That in the summer heap their winter's good,
Plied to their hives sweet honey from those flowers,
Whereout the serpent strengthens all his powers.
The lion laid and stretch'd him in the lawns;
No storm did hold the leopard from his pray,
The fallow-fields were full of wanton fawns;
The plough-swains never saw a fairer day;
For every beast and bird did take delight
To see the quiet heavens to shine so bright.
When thus the winds lay sleeping in the caves,
The air was silent in her concave sphere,
And Neptune with a calm did please his slaves,
Ready to wash the never-drenched bear;
Then did the change in my affects begin,
And wanton love assay'd to snare me in.
Leaning my back against a lofty pine,
Whose top did check the pride of all the air,
Fixing my thoughts, and with my thoughts mine eye,
Upon the sun, the fairest of all fair;
"What thing made God so fair as this?" quoth I.
And thus I mus'd until I dark'd mine eye.
Finding the sun too glorious for my sight,
I glanc'd my look to shun so bright a lamp:
With that appear'd an object twice as bright,
So gorgeous as my senses all were damp.
In Ida richer beauty did not win,
When lovely Venus show'd her silver skin.
Her pace was like to Juno's pompous strains,
Whenas she sweeps through heaven's brass-paved way;
Her front was powder'd through with azur'd vains,
That 'twixt sweet roses and fair lilies lay,
Reflecting such a mixture from her face
As tainted Venus' beauty with disgrace.
Arctophilax, the brightest of the stars,
Was not so orient as her crystal eyes;
Wherein triumphant sat both peace and wars,
From out whose arches such sweet favour flies,
As might reclaim Mars in his highest rage,
At beauty's charge, his fury to assuage.
The diamond gleams not more reflecting lights,
Pointed with fiery pyramids to shine,
Than are those flames that burnish in our sights,
Darting fire out the crystal of her eye,
Able to set Narcissus' thoughts on fire,
Although he swore him foe to sweet desire.
Gazing upon this leman with mine eye,
I felt my sight vail bonnet to her looks;
So deep a passion to my heart did fly,
As I was trap'd within her luring looks,
Forc'd to confess, before that I had done,
Her beauty far more brighter than the sun.
Last updated September 24, 2017