by Robert Greene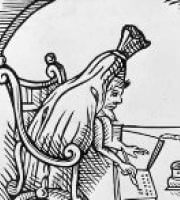 Lame of a leg, as she had lost a limb,
Start up kind Hospitality and wept:
She silent sat awhile and sigh'd by him;
As one half-maimed, to this knight she crept;
At last about his neck, this nymph she leapt,
And, with her cornucopia in her fist,
For very love his chilly lips she kiss'd.
Ay me, quoth she, my love is lorn by death;
My chiefest stay is crack'd, and I am lame:
He that his alms frankly did bequeath,
And fed the poor with store of food, the same,
Even he is dead, and vanish'd is his name,
Whose gates were open, and whose alms deed
Supplied the fatherless and widow's need.
He kept no Christmas-house for once a year;
Each day his boards were fil'd with lordly fare:
He fed a rout of yeomen with his cheer,
Nor was his bread and beef kept in with care;
His wine and beer to strangers were not spare;
And yet beside to all that hunger griev'd
His gates were ope, and they were there reliev'd.
Well could the poor tell where to fetch their bread:
As Baucis and Philemon were y-bless'd
For feasting Jupiter in stranger's stead,
So happy be his high immortal rest,
That was to hospitality addressed!
For few such live. And then she sigh'd so sore,
And so she wept that she could speak no more.
Then Courtesy, whose face was full of smiles,
And Friendship, with her hand upon her heart,
And tender Charity, that loves no wiles,
And Clemency, her passions did impart:
A thousand Virtues, there did straight up-start,
And with their tears and sighs they did disclose
For Hatton's death their hearts were full of woes.
Last updated September 24, 2017