by Robert Greene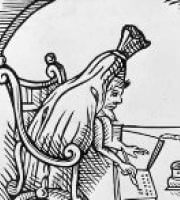 When lordly Saturn in a sable robe
Sat full of frowns and mourning in the west,
The evening star scarce peeped from out her lodge,
And Phoebus newly galloped to his rest;
Even then
Did I
Within my boat sit in the silent streams,
All void of cares as he that lies and dreams.
As Phao so a ferryman I was;
The country lasses said I was too fair;
With easy toil I laboured at mine oar,
To pass from side to side who did repair;
And then
Did I
For pains take pence, and Charon-like transport
As soon the swain as men of high import.
When want of work did give me leave to rest,
My sport was catching of the wanton fish;
So did I wear the tedious time away,
And with my labour mended oft my dish;
For why
I thought
That idle hours were calendars of ruth,
And time ill-spent was prejudice to youth.
I scorned to love, for were the nymph as fair,
As she that loved the beauteous Latmian swain,
Her face, her eyes, her tresses, nor her brows
Like ivory, could my affection gain;
For why
I said
With high disdain, 'Love is a base desire,
And Cupid's flames, why they're but watery fire.'
As thus I sat disdaining of proud love,
'Have over, ferryman!', there cried a boy,
And with him was a paragon for hue,
A lovely damsel beauteous and coy,
And there
With her
A maiden, covered with a tawny veil,
Her face unseen, for breeding lovers' bale.
I stirred my boat, and when I came to shore,
The boy was winged, methought it was a wonder;
The dame had eyes like lightning, or the flash
That runs before the hot report of thunder;
Her smiles
Were sweet,
Lovely her face; was ne'er so fair a creature,
For earthly carcase had a heavenly feature.
'My friend,' quoth she, 'sweet ferryman, behold,
We three must pass, but not a farthing fare;
But I will give, for I am queen of love,
The brightest lass thou likest unto thy share;
Choose where
Thou lovest;
Be she as fair as Love's sweet lady is,
She shall be thine, if that will be thy bliss.'
With that she smiled with such a pleasing face,
As might have made the marble rock relent;
But I, that triumphed in disdain of love,
Bade fie on him that to fond love was bent,
And then
Said thus:
'So light the ferryman for love doth care,
As Venus pass not, if she pay no fare.'
At this a frown sat on her angry brow,
She winks upon her wanton son hard by:
He from his quiver drew a bolt of fire,
And aimed so right as that he pierced mine eye:
And then
Did she
Draw down the veil that hid the virgin's face,
Whose heavenly beauty lightened all the place.
Straight then I leaned mine arm upon mine ear,
And looked upon the nymph, that so was fair:
Her eyes were stars, and like Apollo's locks
Methought appeared the trammels of her hair.
Thus did
I gaze,
And sucked in beauty till that sweet desire
Cast fuel on and set my thought on fire.
When I was lodged within the net of love,
And that they saw my heart was all on flame,
The nymph away, and with her trips along
The winged boy, and with her goes his dame.
O! then
I cried:
'Stay, ladies, stay, and take not any care;
You all shall pass and pay no penny fare.'
Away they fling, and looking coyly back
They laugh at me; oh! with a loud disdain.
I send out sighs to overtake the nymphs,
And tears as lures to call them back again:
But they
Fly thence,
But I sit in my boat, with hand on oar,
And feel a pain, but know not what's the sore.
At last I feel it is the flame of love.
I strive, but bootless, to express the pain;
It cools, it fires, it hopes, it fears, it frets,
And stirreth passions throughout every vein;
That down
I sat,
And sighing did fair Venus' laws approve,
And swore no thing so sweet and sour as love.
Last updated September 24, 2017