by Robert Greene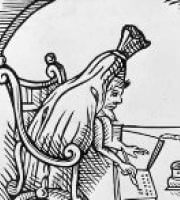 Tempe, the grove where dark Hecate doth keep her abiding,
Tempe, the grove where poor Rosamond bewails her Alexis,
Let not a tree nor a shrub be green to show thy rejoicing,
Let not a leaf once deck thy boughs and branches, O Tempe!
Let not a bird record her tunes, nor chant any sweet notes,
But Philomel, let her bewail the loss of her amours,
And fill all the wood with doleful tunes to bemoan her:
Parch'd leaves fill every spring, fill every fountain;
All the meads in mourning weed fit them to lamenting;
Echo sit and sing despair i' the valleys, i' the mountains;
All Thessaly help poor Rosamond mournful to bemoan her,
For she's quite bereft of her love, and left of Alexis!
Once was she lik'd and once was she lov'd of wanton Alexis:
Now is she loath'd and now is she left of trothless Alexis.
Here did he clip and kiss Rosamond, and vow by Diana,
None so dear to the swain as I, nor none so beloved;
Here did he deeply swear and call great Pan for a witness,
That Rosamond was only the rose belov'd of Alexis,
That Thessaly had not such an other nymph to delight him:
"None," quoth he, but "Venus fair shall have any kisses;
Not Phillis, were Phillis alive, should have any favours,
Nor Galate, Galate so fair for beauteous eyebrows,
Nor Doris, that lass that drew the swains to behold her,
Not one amongst all these, nor all should gain any graces,
But Rosamond alone to herself should have her Alexis."
Now, to revenge the perjur'd vows of faithless Alexis,
Pan, great Pan, that heard'st his oaths, and mighty Diana,
You Driades, and watery nymphs that sport by the fountains,
Fair Tempe, the gladsome grove of greatest Apollo,
Shrubs, and dales, and neighbouring hills that heard when he swore him,
Witness all, and seek to revenge the wrongs of a virgin!
Had any swain been lief to me but guileful Alexis,
Had Rosamond twin'd myrtle boughs, or rosemary branches,
Sweet hollyhock, or else daffodill, or slips of a bay-tree,
And given them for a gift to any swain but Alexis,
Well had Alexis done t'have left his rose for a giglot:
But Galate ne'er lov'd more dear her lovely Menalcas,
Than Rosamond did dearly love her trothless Alexis;
Endymion was ne'er beloved of his Cynthia,
Half so dear as true Rosamond belov'd her Alexis.
Now, silly lass, hie down to the lake, haste down to the willows,
And with those forsaken twigs go make thee a chaplet;
Mournful sit, and sigh by the springs, by the brooks, by the rivers,
Till thou turn for grief, as did Niobe, to a marble;
Melt to tears, pour out thy plaints, let Echo reclaim them,
How Rosamond that loved so dear is left of Alexis.
Now die, die, Rosamond! let men ingrave o' thy tomb-stone,
Here lies she that loved so dear the youngster Alexis,
Once beloved, forsaken late of faithless Alexis,
Yet Rosamond did die for love, false-hearted Alexis!
Last updated September 24, 2017