by Edgar Albert Guest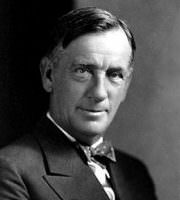 He has heard his country calling, and has fallen into line,
And he's doing something bigger than his daddy ever did;
He has caught a greater vision than the finest one of mine,
And I know to-day I'm prouder of than sorry for the kid.
His speech is soft and vibrant with the messages of truth,
And he says some things of duty that I cannot understand;
It may be that I'm selfish, but this ending of his youth
Is not the dream I cherished and it's not the thing I planned.
I only know he's bigger in his uniform to-day
Than I, who stand and watch him as he drills, have ever been;
That he sees a greater vision of life's purpose far away,
And a finer goal to die for than my eyes have ever seen.
I wish I felt as he does, wish I had his sense of right;
With the vision he possesses I should be supremely glad;
But I sometimes start to choking when I think of him at night--
The boy that has grown bigger, yes, and better than his dad.
Last updated January 14, 2019