by Edgar Albert Guest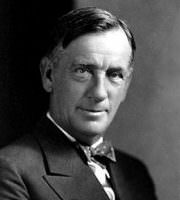 'TIS friendship's test to guard the name
Of him you love from all attack,
As you are to his face, the same
To be when you're behind his back.
Now good old loyal Jimmy Green,
A traitor to you have I been;
As false as Arnold to my trust,
Your name I've trampled in the dust.
Last night I lingered out till two,
And said that I had been with you,
And then straightway my wife began
To prove to me that you're no man.
"What, out again," said she, "with Green!
No decent man with him is seen!
No man who valued much his home
With him would ever care to roam,
But for the children, long ago
His own wife would have quit, I know;
His only friends are loafers, who
Don't care what vicious things they do;
He'd steal, he'd lie, he's insincere."
And all I said was: "Yes, my dear."
"Who else was with you, tell me pray?
Come, answer me, and right away!"
And then I muttered, "Freddie Brown,"
And promptly turned poor Freddie down.
"What, Brown," she screamed, "that low-down thing
Who all his life has had his fling!
That selfish brute who doesn't care
What shabby clothes his wife must wear
So long as he can spend his pay
And turn the night hours into day!
I'd never go about the town
And tell that I had been with Brown;
I've always said his hang-dog look
Betrayed the fact that he's a crook.
And you with him! Of all men, you!
I wonder now what next you'll do?
You know Fred Brown's a man to fear."
And all I said was: "Yes, my dear."
"Who else was with you all this night?"
She asked, and I said, "Billy White."
And Billy White was next to fall
Before her rhetoric in the hall.
I don't remember now just what
She said of Bill, but 'twas a lot.
Perhaps I should have argued back,
And spared my friends from her attack.
Perhaps I should have pointed out
That they are men beyond all doubt,
Men who have won their share of fame,
That each one bears an honored name.
Perhaps I should have argued there
And proved her charges most unfair;
But it was two, as I have said,
And I was tired and wished for bed;
So by the short route chose to steer,
And all I said was: "Yes, my dear."
Last updated January 14, 2019