by Edgar Albert Guest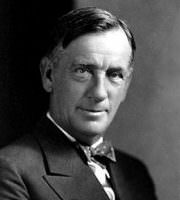 June is here, the month of roses, month of brides and month of bees,
Weaving garlands for our lassies, whispering love songs in the trees,
Painting scenes of gorgeous splendor, canvases no man could brush,
Changing scenes from early morning till the sunset's crimson flush.
June is here, the month of blossoms, month of roses white and red,
Wet with dew and perfume-laden, nodding wheresoe'er we tread;
Come the bees to gather honey, all the lazy afternoon;
Flowers and lassies, men and meadows, love alike the month of June.
Month of love and month of sunshine, month of happiness and song,
Month that cheers the sad wayfarer as he plods the road along;
Spreading out a velvet carpet, green and yellow, for his feet,
And affording for his rest hours many a cool and sweet retreat.
Last updated January 14, 2019