by Edgar Albert Guest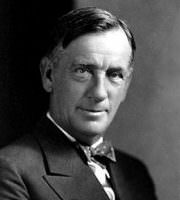 She was gentle, she was true,
And her tender eyes of blue
Seemed to mock the morning sunbeams
And the starlight of the night;
And her laughter seemed to trill
Like the ripple of the rill,
And there never was a trouble
That she didn't make all right.
What though rough had been my way,
And the bitter hours of day
Had depressed my coward spirit
Till it only saw the gloom,
She could lift me from the strife
And bring back the joy of life,
For her smiling presence brightened
And made radiant the room.
Oh, so simple were her ways,
Oh, so merry were the days
That we trod life's lane together
Hand in hand, like children gay;
But my troubles seem to be
Mountain high today to me
For there are no happy evenings
When we laugh them all away.
Now the sunbeams dance and smile,
But I'm looking all the while
For the soft blue eyes of Mary
Who has passed beyond the night;
But I bravely tread my way
For I know there'll come a day
When she'll laugh away my sorrows
And make all my burdens light.
Last updated January 14, 2019