by Edgar Albert Guest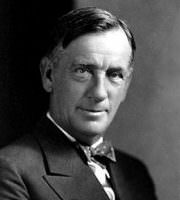 I may never be a hero, I am past the limit now,
There are pencil marks of silver Time has left upon my brow;
I shall win no service medals, I shall hear no cannons' roar,
I shall never fight a battle higher up than eagles soar,
But I hope my children's children may recall my name with pride
As a man who never whimpered when his soul was being tried.
For the fighting and the dying for the everlasting truth
Are the labors designated for the strongest of our youth,
And the man that's nearing forty isn't asked to march away,
For there is no place in battle for the head that's turning gray.
His test is one of patience till the bitter work is done,
He must back his country's leaders till the victory is won.
When this bitter time is ended I don't want to have it said
That I faltered in my courage and I never looked ahead,
I don't want it told I added to the burdens and the woe,
By preaching dismal doctrines that were cheering to the foe;
I want my children's children to respect me and to find
That my soul was out there fighting, though my body stayed behind.
When this cruel test is over and the boys come back from France
I'd not have them say I hindered for a moment their advance;
That they found their duty harder than 'twas needful it should be
Because of the complaining of a lot of men like me.
Though I'll win no hero's medals and deserve no wild applause,
I want to be of service, not a hindrance to the cause.
Last updated January 14, 2019