by John Kearsley Mitchell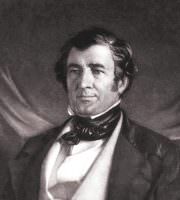 Oh ! bright and beautiful, again I hail
Thy glorious face, thou field of growing stars,
As, gently waving to the softest gale,
The victor-emblem of three glorious wars
Floats o'er the giant ship, whose graceful frame
Is matchless, since, to his, old Noah gave a name*
Though much I joy'd to see the mighty pile
Descending with a grand, yet quiet grace.
And could not stifle the exulting smile,
As, with triumphant air, she took her place
On Ocean's vassal waters, soon to be.
Herself, the proudest thing upon the proudest sea.
Last updated June 27, 2019