by John Kearsley Mitchell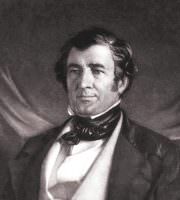 O Lady ! shed that tear again,
Nor let a smile illume thine eyes;
That tear of sympathetic pain,
Is worth a gem of Paradise!
Oh, ever thus may I hehold
The melting tear in beauty's eye,
When all her loveliest buds unfold
Before the light of sympathy.
The smile that glitters through a tear.
May tint the cheek with lighter grace.
Bat oh, to me, how much more dear
TIm smileless tear that gems thy face!
Last updated June 27, 2019