by John Kearsley Mitchell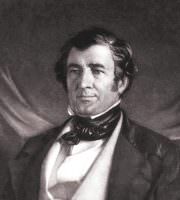 Ah Rabin Burns ! if aught could raise
Thy ghaist frae aut thy ain Scots' braes,
And bring thee frae the gowand grave
To sing another Doric stave,
I'm thinkin Thorn's poetic stanes
Wad be to thee like prophet's banes,
And kindle maist thy slumbering ashes
Anew in wild poetic flashes.
I'd like to see thee rub thine eyes.
And hotch and glow'r wi' glad surprise,
At this thy winsome muse's pride.
In happiest skill solidified.
Could'st thou hae dreamed, when Tarn O'Shanter
Sae madly through thy brain did canter.
Last updated June 27, 2019