by Malcolm Lowry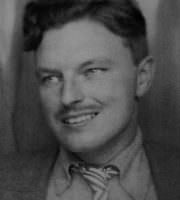 This ticking is most terrible of all,
You hear the sound I mean on ships and trains,
You hear it everywhere, for it is doom;
The tick of real death, not the tick of time;
The termite at the rotten wainscot of the world,
And it is death to you, though well you know
The heart's silent tick, the tick of real death,
Only the tick of time-still only the heart's chime
When body's alarm wakes whirring to terror.
-In the cantina throbs the refrigerator
While against the street the gaunt station hums.
What can you say fairly of broad lieutenant,
With bloody hand behind him, a cigarro in it,
But that he blocks a square of broken sunlight
Where scraps of freedom stream against the gale
And lightning scrapes blue shovels against coal?
The thunder batters the Gothic mountains;
But why must you hear, hear and not know
This storm, seeing it only under the door,
Visible in synecdoches of wheels
And khaki water sousing down the gutter?
In ripples like claws tearing the water back?
The wheels smash a wake under the jalousie.
The lieutenant moves, but the door swings to…
-What of all this life outside, unseen by you,
Passed by, escaped from, or excluded
By a posture in desolate bar?...
No need to speak, conserve a last mistake;
Perhaps real death's inside, don't let it loose.
The lieutenant carried it into the back room?
The upturned spittoons may mean it, so many the
Glass. The girl refills it, pours a glass of real death,
And if there's death in her there is in me.
On the pictured calendar, set to the future,
The two reindeer battle to death, white man,
The tick of real death, not the tick of time,
Hearing, thrusts his canoe into a moon,
Risen to bring us madness none too soon.
Last updated September 29, 2022