by Peter Riley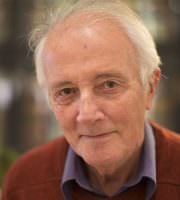 This centre we take with us
everywhere we go like a ring on a finger
so that where we are will always be
in some sense London.
The churches in this city
gather light in the morning
as a mountain does. The bird
flies to its nest.
We'll get out of here one day,
these squalid bed-sitting-rooms and
selling lampshades or what-
ever we do which certainly isn't
what we came here to do
but all we can think of
is a pastoral alternative – slopes and
curlews and one day we'll
get there one day, holding
to our breasts the capital
of thought and what it was
we loved here.
From:
2018, Collected Poems
Copyright ©:
Shearsman Books
Last updated July 20, 2021