by William Wycherley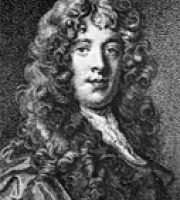 I.
Let the Dull, Sober, and the Grave,
But fit for drudging, Bus'ness have;
Let sitting still, my Hand employ,
My busie Tongue, not thoughtless Head;
Employment, which wou'd Cares destroy,
Not such, by which, more still are bred;
II.
Let all Ambitious Sots flie high,
To make their Steps more slippery,
Whilst I, with Wine exalted am,
Into the Cellar safer fall;
Since Falls in Drink, but seldom maim,
Whilst t'other break Brains, Necks, and all;
III.
Let me grow blind by Wine, not Love,
A Head-ach get, which will remove,
And of itself be gone next Day;
Whilst Aches, Sober Love begot,
Our Brains and Bodies more decay,
Make a Brisk Wit, a Thoughtful Sot;
IV.
Wine makes the Poor own they've enough,
The Tender, Finical, lie rough,
The Haughty, Rich, to have no Pride,
The Man of Bus'ness, no Design,
Disputes and Scruples will decide,
Without a Lawyer, or Divine;
V.
Wine's the Brave's, Lover's Safety so,
If they'll but drink their Passions low;
For he, whose Head is full of Wine,
To Pox'd Heart-Padders cannot stand,
Must to the Watch his Sword resign,
When he, for Wine, can't heave his Hand;
VI.
He's only Wise, and truly Rich,
Who drinks himself to such a Pitch,
As none to Envy, nor Design,
To be more Free, Happy, Rich, High,
Than when exalted by Rich Wine,
Which gives Fools Wit, Slaves Liberty.
Last updated May 19, 2019