by William Wycherley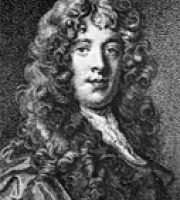 Pluto himself did tremble in his Hell,
Pale Ghosts look'd paler, to hear new Ghosts tell
What was in Neptune 's Empire done above
By Two great Fleets, that for Hell's Empire strove.
Each Side, like Fiends, in Fire and Smoke did fight,
And put the Dev'l himself into a Fright;
For both dispatch'd to Hell such Numbers down,
That Pluto scarce could call his Realm his own.
And since both States to Monarchs had been Foes,
He fear'd, betwixt them, they would him depose.
So loud our Cannons roar'd, so much our Fire
Outdid his Flames from ev'ry blazing Tire,
As if th' advent'rous Britons strove to be
Masters of Hell, as well as of the Sea:
Or that both Parties were Confed'rates grown,
To pluck his Universal Empire down.
For Rebels ever by their Nature hate
The absolute Dominion of a State,
And with the Devil himself would Right dispute,
If He pretended to be Absolute:
Justly he fear'd, our English would rebell,
And knew the Dutch the Dev'l would buy and sell.
Last updated May 19, 2019