by William Wycherley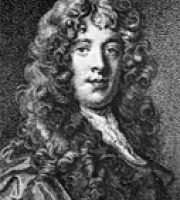 O God-like State! thou Heav'nly Laziness!
Which, in thy Rags, canst thy Professors Bless,
Ensure their Innocence, Peace, Ease, or Rest,
Ev'n here, with Poverty, to make 'em Blest;
Their Faith, and Honour, best dost justifie,
Securing their Good Name, and Liberty,
From Scandal, Care, Fear, Pain, and Slavery;
Blest State on Earth! for which, in Rags we go,
Hunger and Thirst, Reproach, Shame, suffer too,
In spight of Fate, but to make sure of you;
The Poor Man's only Joy, Rest, Safety, which,
Like Heav'n, are less enjoy'd too, by the Rich;
Thou true Contempt of all Vain, Worldly Things!
Which all thy Wise Professors, soonest brings
To Peace, and Rest; to which, Kings but aspire
In vain, whilst them, Supineness does acquire;
The Poor Man's Lot, the Rich Man's vain Desire;
Thou Foe to Pride, Lust, Avarice, or Strife!
True Sign of Faith, contemning Mortal Life;
Since, but on Providence, with Constancy,
You, for Ease, Peace, Life, Livelihood, relie,
Your Faith, best by your Sloth, to justifie;
For True Faith and Philosophy, so you
Shou'd with Men of best Sense and Morals, go;
Whose Want of Action, Mischief does prevent,
Since few Men Busie prove, and Innocent;
Then thou! resign'd in all, to Destiny,
Art Christian Faith, Heathen Philosophy;
Since they, the most Wise, best Believers are,
Who, for this Life, are least in Pain, Fear, Care;
Then, for True Stoicism, shou'dst thou go,
The Body's Ease, and the Mind's Quiet too;
True Stoicism, Strictest Virtue, and
Over our Passions, hast the best Command;
Art Constancy, which no Vain Passion can
Move, to False Hopes, or Fears, Lust, Rage, or Gain,
Pride, or Ambition, Trouble, Care, or Pain;
To Man's Inconstancy, the surest Stay
To Labour, Pain, or Grief, his Wise Delay,
When Passions wou'd, with Reason, run away;
Art Patience, so to Fate, dost still consent;
Art Prudence, wou'dst not certain Fate prevent;
Man's Resignation still, in any State,
To make Vain Man contented with his Fate;
His Passive Valour, and Firm Constancy,
Dost not seek Vengeance, nor from Danger flie,
And dost renounce all Active Knavery;
Thou Proof of Honour, Badge of Courage, art,
Dost make Man bear all, at no Danger start;
The best Badge of Nobility Men bear,
Which, for Wealth, Fame, wou'd take no Pains, or Care,
By which, Great Active Men dishonour'd are;
For Pride, or Gain, you sell not Liberty,
Safety, or Ease, for Selfish Industry,
Nor for Vain Honour, gain Proud Slavery;
You give Men, o'er their Passions, their Command,
And Shocks of Fate, or Death, you make 'em stand;
Till by their Passive Valour, best they grow,
O'er-comers of their Fates, their own selves too,
Since you, 'gainst your own Peace, will nothing do;
True Stoicism are you, and maintain
Nothing in Life, is worth our Care, or Pain;
Contempt o'th' World are, best Philosophy,
Innocent Life, so best Divinity,
Best Faith, submitting all to Destiny;
Which makes us to depend on Providence,
More than upon our Humane Strength, or Sense;
Since against Fate, our Labour, or our Pain,
Were to it as Offensive, as in Vain;
So Laziness, still Thoughtless, and Supine!
Thou dost Men to Faith, Innocence, incline,
Dost ev'n make Mortals lead a Life Divine;
Art more Man's True Faith, as his Pains are less,
Who with Content, dost ev'n th' Unhappy bless,
And make 'em, in Worst Fortune, acquiess;
Thou, without Wealth, canst Happiness bestow,
Since all our End of Wealth, Pow'r, State, below,
Is but to have here, nothing e'er to do;
Thou Heav'n on Earth art, mak'st all Poor Men Blest,
Dost keep them Innocent, giv'st Peace, Ease, Rest;
Then if, O Laziness! my Praise of thee,
Be short of thee, 'tis long of thee, not me;
Which had been on thee, to thy Credit more,
If on me, you had had now, but less Pow'r.
Last updated May 19, 2019