by Arthur Rimbaud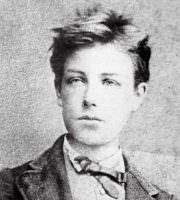 Obscur et froncé comme un oeillet violet
Il respire, humblement tapi parmi la mousse.
Humide encor d'amour qui suit la fuite douce
Des Fesses blanches jusqu'au coeur de son ourlet.
Des filaments pareils à des larmes de lait
Ont pleuré, sous le vent cruel qui les repousse,
À travers de petits caillots de marne rousse
Pour s'aller perdre où la pente les appelait.
Mon Rêve s'aboucha souvent à sa ventouse ;
Mon âme, du coït matériel jalouse,
En fit son larmier fauve et son nid de sanglots.
C'est l'olive pâmée, et la flûte caline ;
C'est le tube où descend la céleste praline :
Chanaan féminin dans les moiteurs enclos !
Albert Mérat.
The Idol.
Sonnet to an Asshole
Dark and wrinkled like a purple pink
It breathes, nestling humbly among the still-damp
Froth of love that follows the gentle slope
Of the white buttocks to its crater's edge.
Filaments like tears of milk
Have wept in the cruel wind which pushes them back,
Across little clots of reddish marl
To lose themselves where the slope called them.
My dream has often kissed its opening;
My soul, jealous of physical coitus,
Has made this its fawn-coloured tear-bottle and its nest of sobs.
It is the rapturous olive and the wheedling flute,
The tube from which the heavenly burnt almond falls:
Feminine Canaan enclosed among moistures.
Albert Mérat.
P.V.-A.R.
Last updated November 03, 2022