by Arthur Rimbaud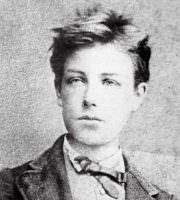 This man, pale, walks the flowering lawns,
Dressed in black, cigar between his teeth.
The pale man thinks about the Tuileries
In flower...and at times his dead eye flames.
His twenty years of orgy have made him drink!
He told himself: 'I will extinguish
Liberty As I put out a candle-- softly, politely...'
Liberty lives again! He feels worn out.
They've caught him. Now what name trembles
On his silent lips? What quick regret?
No one will know: the Emperor's eye is dead.
He sees again, perhaps, the man in the pince-nez...
And watches drifting from his lighted cigar,
Like evenings at St. Cloud, a thin blue haze.
Original French
Rages de Césars
L'Homme pâle, le long des pelouses fleuries,
Chemine, en habit noir, et le cigare aux dents :
L'Homme pâle repense aux fleurs des Tuileries
- Et parfois son oeil terne a des regards ardents...
Car l'Empereur est saoul de ses vingt ans d'orgie !
Il s'était dit : "Je vais souffler la liberté
Bien délicatement, ainsi qu'une bougie !"
La Liberté revit ! Il se sent éreinté !
Il est pris. - Oh ! quel nom sur ses lèvres muettes
Tressaille ? Quel regret implacable le mord ?
On ne le saura pas. L'Empereur a l'oeil mort.
Il repense peut-être au Compère en lunettes...
- Et regarde filer de son cigare en feu,
Comme aux soirs de Saint-Cloud, un fin nuage bleu.
Last updated November 03, 2022