by Cotton Mather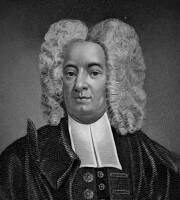 The Gospel of Gods Glorious Grace ,
Which with News of Salvation
Shines every where, Ungodliness
And Worldly Lusts , bids us to shun.
It bids and binds us, all to take,
A Sober, Righteous, Godly Way,
And Conscience of all Duty make,
While in this present World we stay:
Hoping and Looking daily for
The Blessed Promise of this Word,
That the Great God our Savior ,
Shall come in Glory: Come O Lord !
Even JESUS CHRIST, who freely gave
Himself to Death , for us, that we
Might through Him Redemption have
From that Worse Thing Iniquitie:
And He Himself, so Purifie
A People , His own Choice, and Rare,
Who Zealous of Good Works shall be,
And in that Zeal peculiar .
Last updated April 01, 2023