by Cotton Mather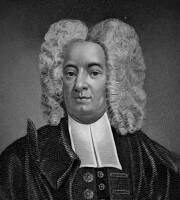 Grace Irresistible subdues me, Lord;
And I no longer can Resist thy Word.
My SOUL too long lies in its Grave forgot;
Whose price bright Pearls , yea, whole Worlds Equal not:
A SOUL whereto GOD such Respect ha's had;
And which Repenting , would make Angels glad.
I Loathe & Leave now all the Paths of SIN,
And Mourn that I have stray'd so long therein.
The Paths of True Religion I prefer,
As what most Just & Good & Lovely are.
O Great JEHOVAH, Thou my God shalt be;
And I my ALL surrender unto thee.
My Life is in thy FAVOUR ; Let me live
In That , & to thy Name all Glory give.
Be though my Father, O Thou Three in One ,
My Saviour be, my Leader, Thou alone.
Oh! May I know, & Love, & serve my God,
And fill'd with Him, in Him have my Abode.
I won't believe what the Destroyer sayes,
Nor will I walk in his Destructive wayes.
Thee, O my SAVIOUR, with a Lively Faith,
I ask to Save me from Eternal Death .
Me now Resign'd to thy most Glorious Hands;
Free by thy Merits, Rule by thy Commands .
O Wisdom , open thou my Sinful Eyes;
And with a Light from Heaven make me wise.
O Righteous One, let thy Obedience paid
To God for me, my Righteousness be made.
O Holy One, my Heart inflame with Zeal ,
In Flights of Holiness to do thy Will.
O Strong Redeemer , Help a wretched Slave ,
And from Deaths Chains let me Redemption have.
Lord, Me to thy Caelestial City bring,
Where thy dear Saints behold no grievous thing
There let me See , & with the Sight , possess
My JESUS, in Compleat and Endless Bliss.
In Hope of that Rich Bliss, I will despise
This Vain World , and its Lying Vanities .
Last updated April 01, 2023