by Cotton Mather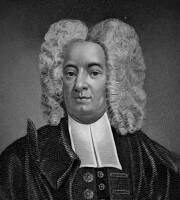 (The Sower a Singer)
1. When the seed of Thy word is cast On such a beaten road;
2. Oh, do not leave my heart to be An un affected stone,
Let not the fruit of all be lost, Nor under foot be trod.
Where heaven's eye no fruit will see, But what will soon be gone.
May't be no unattentive heart, When there my lessons fall;
Let there be found of piety In me a root so deep
Let not hell's harpies do their part To rob me of them all.
As from a vile apostasy Will me forever keep.
3. Lord, let not worldly lusts and cares
Thy work in me annoy;
Choke all good fruit, and prove the snares
That shall my soul destroy.
Ye cursed thorns I deprecate
All your entanglements.
My Saviour, let not these defeat
Thy gospel's' kind intents.
4. O Glorious Christ of God, from whom
Does all my fruit proceed;
Let thy sweet influences come,
And quicken thou the seed.
With fruits make me a blessed field,
More precious things than gold;
With fruits of thy good spirit filled,
More than a hundred-fold.
Last updated April 01, 2023