by Cotton Mather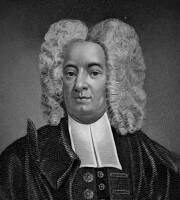 Give me thy Heart , My SAVIOUR says:
'Tis what I strive to do.
It's Barren: Change it, Lord , by Grace,
A Fruitful Soyl into.
[1.] When the Seed of thy Word is cast
On such a Beaten Road ;
Let not the Fruit of all be lost,
Nor under Foot be trod.
May't be no Unattentive Heart,
When There thy Lessons fall;
Let not Hell's Harpyes do their part
To rob me of them all.
[2.] Oh, Do not leave my Heart to be
An Unaffected Stone ,
Where Heavens Eye no Fruit will see,
But what will soon be gone.
Let there be found of PIETY
In me a Root so deep,
As from a vile Apostacy
Will me for ever keep.
[3.] Lord , Let not worldly Lusts and Cares
Thy Work in me annoy;
Cloak all good Fruit ; and prove the snares
That shall my Soul destroy.
Ye Cursed Thorns I deprecate
All your Entanglements.
My SAVIOUR, Let not these defeat
Thy Gospels kind Intents.
[4.] O Glorious CHRIST of GOD, from whom
Does all my Fruit proceed;
Let thy sweet Influences come,
And quicken Thou the Seed .
With Fruits make me a Blessed Field;
More precious Things than Gold;
With Fruits of thy Good SPIRIT fill'd,
More than an Hundred fold.
Last updated April 01, 2023