by Elizabeth Bentley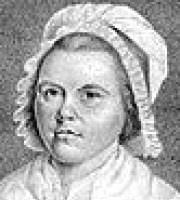 UNUSUALLY alert, young Spring
Is stretching wide her purple wing,
To renovate the Earth;
Already o'er our wint'ry Isle
She sheds her joy-diffusing smile,
And gives her flow'rets birth.
For see, instead of snowy vest,
In robes of green the meadows drest,
Invite the browsing steed;
Luxuriant crops of sweetest grass
Shall well repay the patient ass,
The sheep shall richly feed.
The days of gloom already fled,
E'en January's frosted head,
A verdant chaplet wears;
Chang'd for the ice-drops sparkling gem,
See, infant buds adorn the stem,
Th' expanding leaf appears.
Ah! Eurus, stay thy chilly breath,
Nor doom those tender germs to death,
Lest famish'd man should pine;
Let him not Summer's fruits deplore,
Nor wail for Autumn's blasted store,
But bless the hand divine.
Last updated January 14, 2019