by Elizabeth Bentley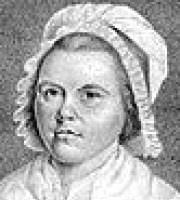 LET others sing, in soft, harmonious strain,
The praise of Vice, and all her abject train;
Or to pert Folly's whim devote the lyre,
O, let me to some nobler theme aspire!
Tho' mean my verse, at Virtue's shrine I bend,
Ye tuneful Nine, your kinder influence lend.
Virtue, thou fair celestial of the skies!
Why should mankind thy genuine worth despise?
Why should thy matchless graces ever be
Condemn'd a sacrifice to Vanity?
Of the bright Deity thou purest ray,
O! may I never from thy precepts stray;
But thro' Life's transient span thy paths pursue,
And strictly keep thy glories in my view.
Then may I hope, when there short scenes are past,
To rise with transport to thy realms at last!
Last updated January 14, 2019