by Elizabeth Bentley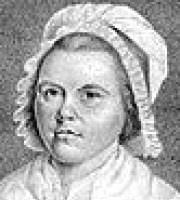 CLAD in a fog, dim Evening draws around,
Adieu, thou cold, short space, a winter's day;
Now chilling damp o'erspreads the fertile ground,
No longer chear'd by Sol's enliv'ning ray.
The toil-worn peasant gladly quits the plain,
With weary step, he seeks his peaceful home;
Where guiltless mirth and social pleasures reign,
Where pride and discontent shall never come.
The harmless feather'd tribe no more I see,
Each to his rest has wing'd his speedy way;
Save where brisk Robin, on some leafless tree,
Tunes a sweet carol to departing day.
Both man and beast from night's approach withdrawn,
The sad'ning prospect darkens on the eye;
Silence almost profound reigns o'er the lawn,
And, unperceiv'd, draws from the breast a sigh.
Yet may the mind unrack'd with doubts and fears,
With cares unruffled, peaceful and serene;
Though nature her most dismal aspect wears,
Still look with pleasure, on the gloomy scene.
Not so the soul oppress'd with shame or grief,
Not so the man whom guilty thoughts affright;
He draws from nature's beauties no relief,
He feels new horrors from the darksome night.
Last updated January 14, 2019