by Elizabeth Bentley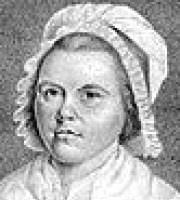 HARK! where Joy's triumphant throng
Ardent pour the grateful song,
To Heav'n's Almighty Lord!
He view'd in scorn th' insulting host,
Who madly threaten'd o'er our coast
To wave th' ensanguin'd sword:
His voice in thunder shook the skies,
Bade Britain's guardian genius rise,
And guide her sons to fame;
Bade valour in their bosoms glow,
And Victory crown th' undaunted brow,
And give a deathless name.
Ye brave defenders of our Isle,
Britannia waits with grateful smile
Her conq'ring sons t' embrace;
Her annals shall record your deeds,
His fame who for his country bleeds
Th' historic page shall grace.
Ye, who your captive fate bemoan,
Who uttering many a heartfelt groan,
Salute a hostile shore,
Know our best triumph o'er our foes,
Is with kind hand to heal their woes,
Nor more your lot deplore.
Britannia, empress of the main,
Her pow'r shall undisturb'd maintain,
While beams the orb of day;
Her commerce o'er the globe extend,
Each distant clime its products send,
Each nation bless her sway.
Last updated January 14, 2019