by Elizabeth Bentley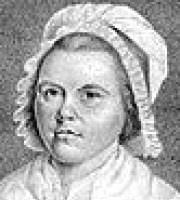 AWAKE! my muse, expand thy gentle wing,
And in thy flight the Morn's bright beauties scan;
Nor e'er forget in grateful lay to sing,
Great Nature's God how bountiful to man.
The rising sun (whole dew-dispelling beams
To ev'ry plant and flow'r fresh beauties lend)
With sparkling lustre gilds those murm'ring streams
O'er which the trees in graceful foliage bend.
The birds their nests forsake with anxious speed,
To spend the day in innocence and love;
With tender care the unfledg'd brood to feed,
And fill with music's charms the neighb'ring grove,
Man to his daily labour takes his way,
With sweet contented face and healthful brow;
That health and peace can all his toils repay,
Which exercise and temperance bestow.
These are the pleasing scenes of rural life,
These the blest joys the country e'er displays;
Who would not wish, remov'd from noise and strife,
Amid such scenes to spend their tranquil days.
Come then, my friends, quit, quit the bustling town,
Where bury, anxious care your bliss destroys;
And if your days with happiness you'd crown,
With eager steps pursue the country's joys.
Last updated January 14, 2019