by Elizabeth Bentley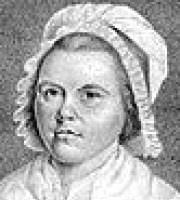 SWEET warbler! whose mellifluent strain
Thus nightly cheers the lonely plain,
Who tun'st thy voice when all are mute,
In that wild note what charms combine!
What strains of art can equal thine?
What pipe or soft enchanting lute?
Thou shun'st the glaring eye of day,
And lov'st to sound thy plaintive lay
Beneath the moon's less splendid beam;
Just emblem of the thoughtful mind,
Which seeks for pleasures more refin'd
Than those in busy Life's gay dream.
When Contemplation wondering strays,
Her thoughts enrapt in silent praise,
The Almighty thro' his works adore,
Hark! from thy tongue sweet music thrills,
Responsive echoing from the hills,
And gives delight unfelt before.
Deign near my humble cot to dwell,
Thy pensive tale melodious tell,
Oft hid beneath yon shady trees;
Nature's musician! let mine ear
At eve thy tuneful warblings hear,
Wafted on Spring's calm dewy breeze.
Last updated January 14, 2019