by Elizabeth Bentley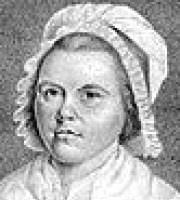 HAIL, infant Year! my waking eye
With rapture meets thy dawn;
Hope, fairest offspring of the sky,
Illumes thy cloudless morn.
Vexation hence! and sullen cares,
Ye gloomy tribe adieu!
Hide ye behind the former years,
Nor dare molest the new.
Hope's magic song has oft deceiv'd,
And Time reveal'd the cheat,
Yet shall the Syren be believ'd,
Her promise yet be sweet.
Hence! leaden-handed Sloth, away,
My mind disowns thy pow'r;
Some active duty claims each day,
Some virtue asks each hour.
Folly avaunt! nor let my heart
Obey thy light controul;
But thou, celestial Wisdom dart
Thy radiance o'er my soul.
How many an eye that hail'd the sun,
When last the year he led,
Has, ere his annual course was run,
Been closed amid the dead.
Great Father! from whose throne above
Each perfect gift descends;
Oh! grant thy servant grace t' improve
The years thy mercy lends.
So when thy wisdom gives command,
That time to me shall cease,
May my rapt Soul her wings expand
In realms of endless peace.
Last updated January 14, 2019