by Elizabeth Bentley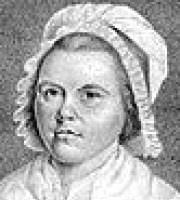 WHEN young Imagination fires the soul
With her ideal prospects of delight,
And soaring scorns grave Reason's sage controul,
Quick thou pursu'st and stop'st her rapid flight.
Yet will fond Hope, with self-deluding smiles,
The future scene in brightest tints pourtray;
The present anxious hour she still beguiles,
Again thy cloud o'ershades her flow'ry way.
Till taught by years mature Experience views
Thy harsh forbidden mien with steady eye;
No more the visionary joy pursues,
Nor dares on Fancy's flatt'ring dreams rely:
Yet Virtue's votaries shall thy pow'r elude,
And reach those realms where thou shalt ne'er obtrude.
Last updated January 14, 2019