by Elizabeth Bentley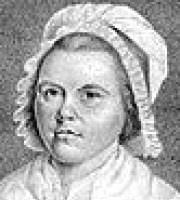 WHAT angel forms, attired in robes of light,
Pour their effulgence on my raptur'd sight?
Th' ethereal VIRTUES! lo! the radiant band!
Appal'd, from Gallia's guilt-stain'd land,
Precipitate they fly,
To seek retreat beneath a purer sky:
Banish'd from that devoted shore,
By yon false phantom's ghastly stare,
Who dares the sacred name of Freedom claim;
Who with unmeaning, loud, tumultuous roar,
Bids mortals follow, dazzled by her glare;
They plunge at once in misery and shame.
See their Religion, Rights, and Laws o'erthrown:
Can one inhabitant of heav'n abide,
Where God himself is daringly defied?
See, they break each sacred tie,
Each nobler sentiment disown,
Evil and good at once confound,
They deal the sword of carnage round,
And gaze on bleeding Innocence with unrelenting eye.
Stern Terror stalks the crimson'd streets,
And strikes each gentler breast he meets;
His stony wand the heart congeals,
And every warm affection seals,
Bids the fierce passions rage without controul,
And furious Anarchy possess the soul.
Ambition, Hatred, Envy reigns,
O'er the blood-polluted plains;
See with malignant joy each Vice her trophy brings,
And vulture Rapine flaps his sable wings;
While hovering o'er the guilty state,
Fell Desolation and Destruction wait,
Eager the voice of Vengeance to obey,
At Heav'n's command to seize their destin'd prey.
Far from the horrid scene the Virtues flee,
To seek a land, Fame's noblest theme,
Whose rocky shore surrounding Ocean laves,
Where on a cliff enthron'd supreme,
Britannia o'er the subject sea
Her conquering banner waves;
Where genuine Freedom boasts her seat,
Whom Faction's arm shall ne'er defeat.
Britons! revere th' angelic band,
Receive, receive the heav'n-descended guests;
Grant them the empire o'er your gen'rous breasts:
First Piety, whose stedfast eyes
Are fix'd in converse with her realm the skies:
Firm Loyalty with Valour hand in hand,
And patriot Zeal, whose ardent heart
Burns in his bosom with untainted flame;
Integrity, who scorns the veil of Art;
Justice, from whose keen glance
Guilt shrinks with conscious shame:
Mercy the lifted arm of Justice grasps,
Her sister Pity soothing the distrest,
And glowing Charity, who clasps
The shivering infant to her breast;
And Fortitude whose soul can every woe sustain;
Prudence, whose mirror forms the mind,
And Industry with ruddy Temp'rance join'd,
And all the kindred sky-born train.
Let Vice, with all her hideous band,
Abash'd, forego the heav'n-taught land;
Let murmuring Discontent be known no more,
Whose cloudy brow portends the gathering storm;
Nor factious Idleness pollute the shore,
Vile parent of Sedition's demon form!
Shall mad Sedition in our hearts e'er dwell?
O! Britons, warn'd by Gallia's fate,
Cautious avoid the glittering bait,
Shun, shun the precipice from which she fell!
Blest in a land whose every law
Has long withstood the threat'ning arm of Time;
Wiser than Rome or Greece e'er saw,
And temp'rate as your clime;
Alike remov'd from arbitrary sway,
(Whose chilling blast congeals the mind,
As frigid realms in ice each current bind)
And giddy Tumult's senseless rage,
(Which Reason's voice shall ne'er assuage)
That burns and scorches like the torrid ray.
O! let the Virtues in your hearts abide,
Let sacred Union o'er each breast preside,
And pure Religion breathe her hallow'd flame;
Then, blest by Heav'n, our happy land,
Shall o'er her atheist foes victorious stand,
And circling realms revere Britannia's name.
Last updated January 14, 2019