by Elizabeth Bentley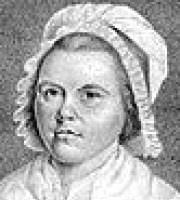 TO THE MEMORY OF MY DEAR DECEASED FRIEND,
MRS. SUCKLING,
WIFE of ROBERT SUCKLING, Esq. of WOODTON HALL, Norfolk.
ARE these sad tidings true? ah! is she dead?
Must I the inmate of my soul deplore?
Are Hope's delusive dreams for ever fled?
Must Friendship's sacred joys return no more?
While Memory holds her empire o'er my breast,
Tho' snatch'd by death the friend shall be rever'd,
In whose affections I so late was blest,
Whom every virtue to my mind endear'd.
Her's was the pious Christian's fervent zeal,
By Affectation's glaring tints unstain'd;
For others' woe her bosom knew to feel,
While dove-like Meekness o'er her temper reign'd.
Her's was that mild benignity of mien
Which speaks a heart where innate goodness glows;
The calm and gentle brow, the smile serene,
Which conscious rectitude alone bestows.
Ye friends who knew her worth, oh! speak your grief,
With me in notes of tenderest sorrow join;
If sympathy in woe can yield relief,
Oh! mix your heartfelt sighs, your tears with mine!
Ye friends who knew her worth, with me rejoice!
Her spirit pure from mortal suffering freed,
Hath heard that sentence from a Saviour's voice,
"Come thou, blest soul, receive thy virtues' meed!
Yet, in lone moments, still shall Fancy's eye,
Her image to my pensive mind recall;
Remembrance yet shall prompt the heart-heav'd sigh,
Shall bid Affection's tear in silence fall.
But Hope descends, bright messenger of peace,
With purest accents of seraphic love;
"Ah! cease," she cries, "thy fruitless sorrow cease,
"And raise thy thoughts from earth to realms above.
"While Heav'n permits thy moments here to last,
"Pursue that path thy Friend has trod before;
"Then shall th' Eternal, when Life's scenes are past,
"Unite your kindred minds to part no more."
Shall the dark vale that lies between controul
The powers of Friendship, offspring of the skies?
No! Friendship lives, immortal as the soul,
Shall mock Death's grasp, and still triumphant rise.
Last updated January 14, 2019