by Elizabeth Bentley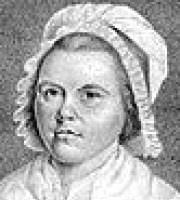 'TIS done! the Despot's reign is o'er,
The kingdoms freed, shall groan no more
Beneath his impious sway;
Who, rais'd by the Almighty's hand,
Has chasten'd many a guilty land,
Till Heav'n's appointed day.
With giant arm his chains were hurl'd,
And forced the subjugated world
To tremble at his name;
One nation only braved his might,
Britannia's sons, renown'd in fight,
His glory changed to shame.
So erst the proud Assyrian King,
Once thought beneath his yoke to bring
Judea's hallow'd soil;
When lo! a voice on high proclaims,
"Here cease thy mad ambitious aims,
"Nor dare my land despoil."
The meek-eyed angel Peace descends,
To this low world her course she bends,
Child of celestial love!
With Plenty, of co-equal birth,
In mercy to the sons of earth,
Commission'd from above.
Welcome, ye Sisters, to our isle!
O Peace! diffuse afar thy smile,
Beyond th' Atlantic main;
America shall hail thy voice,
And join'd with Europe's realms rejoice,
Beneath thy halcyon reign.
Last updated January 14, 2019