by Elizabeth Bentley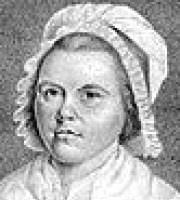 COME Contemplation, in whose mien
Awful Wisdom sits serene,
Pleas'd shall the eye thy form survey;
No gaudy plumage decks thy brow,
Nor dazzling hues of varied glow,
Glare from thy vest of simple grey:
Yet hast thou beauties more refin'd,
To captivate the serious mind;
'Tis thine to bid rapt Fancy soar,
Where daring Thought ne'er urged her wing before.
Creative harmony thou lov'st to trace,
O'er fertile earth's extended space;
Yon star-illumin'd concave view,
(To keen Observance ever new)
Or the raging deep survey,
Where the vast whale pursues his prey.
Thou can'st in ev'ry scene some charm descry,
When Spring invites o'er daisy-speckled fields,
Or sun-burnt Summer seeks thy shades;
When Autumn's hand her treasure yields;
E'en when on pallid Winter's eye
Each glowing landscape fades,
Thou lov'st the still, sequester'd seat,
Musing Solitude's retreat,
Where silent Fancy oft shall stray,
To meditate th' entrancing lay,
Nature's impressive charms inspire,
And prompt her hand to touch the pensive lyre.
There may'st thou lead thy sober train,
Shunning Laughter's loud domain;
Memory, who backward darts her eye,
On pleasures swiftly flitting by;
Youthful Hope, whose eager glance
In prospect sees new joys advance;
Reflection hoar, with downcast sight,
Who strives to check her ardent flight.
There may'st thou bid th' immortal mind
Survey the bliss for Virtue's race design'd;
Not chain'd to earth by sordid care,
Nor link'd in Vice's silken snare;
On Rapture's pinions taught to rise,
She owns her high descent, and claims her native skies.
These, Contemplation, matron sage,
These are the joys thy votaries know,
While Folly's friends but feel the frantic rage
Of futile Pleasure's momentary glow.
Come, then, my steps attend thro' Life's entangling maze,
Bid me with fix'd delight on pure perfection gaze,
Till the freed soul attains that happy shore,
To which e'en now with thee she dares to soar.
Last updated January 14, 2019