by Elizabeth Bentley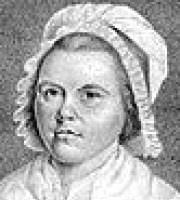 NYMPH of the joy-diffusing smile,
The soft, endearing mien;
Whose looks the heaviest grief beguile,
And chear the gloomiest scene;
May ev'ry Muse her tribute pay,
When thy celestial name demands the lay.
Thou canst pale Envy's rage restrain;
Thine is the pow'r to tame
Revenge, with all his ghastly train,
And quench Ambition's flame;
'Tis thine to clip the wings of Pride,
And bid Self-love his low'ring aspect hide.
Thine is the heart-felt, social glow,
Th' extensive wish to bless;
To bid the streams of comfort flow
Where'er thou seest distress;
Thine is the sympathetic sigh,
The melting drop that falls from Pity's eye.
Thou to no region art confin'd,
But spread'st o'er all thy charm:
With sweet Society combin'd,
Earth's frigid zone canst warm;
Canst mitigate the torrid's flame,
And teach remotest realms t' adore thy name.
But most Britannia owns thy sway,
Thou rul'st her Monarch's breast;
Her gen'rous sons thy pow'r display,
And bid each wretch be blest;
Thy heav'n-taught laws their souls expand,
T' impart their bliss to each less happy land.
What tongue her Howard's fame shall tell?
Whose heart, inspir'd by thee,
Has pierc'd the dungeon's direst cell,
And set the captive free;
Who joy'd through ev'ry clime to go,
To soothe despair and heal each human woe.
But ah! too soon his day is o'er,
Thy sacrifice he falls;
On earth, alas! he shines no more,
Yon heav'n his spirit calls:
A grateful world laments his fate,
And shall revere his name to time's last date.
Yet though, lov'd Goddess, all divine,
Thy darting son is fled;
Millions shall bow before thy shrine,
By his example led:
Thy friends shall rise in various climes,
And future Howards bless succeeding times.
Still glad the nations with thy reign,
Thou source of pure delight!
The kindred virtues in thy train
With dove-like Peace unite!
E'en now her head meek Mercy rears,
And calls Astrea from her native spheres.
Thy lustre o'er each mind display,
Where Reason deigns to gleam;
Thou, ardent as the God of Day,
Yet mild as Luna's beam;
Teach men each other's bliss to prize,
Th' unsocial thought and self-bound wish despise.
Last updated January 14, 2019