by Elizabeth Bentley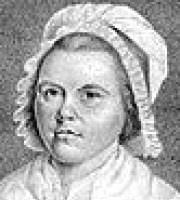 BY Summer's hand profusely drest,
Here Nature in her gayest vest,
Salutes th' attentive view;
What graces this bright spot adorn!
Here colours radiant as the morn,
There every milder hue.
Here glowing red, pale pink, pure white,
Ethereal blue and gold unite,
Illumed by solar rays;
Ten thousand shades of sprightly green
Conspire to deck the living scene,
Which every tinge displays.
New beauties rise yet unsurvey'd;
What various shapes, what tints display'd
O'er all the blooming train!
The leaf to what perfection brought,
Of finest silky texture wrought,
What slender stems sustain!
Each useful herb luxuriant grows,
Whilst verdant shrubs in shady rows
The warbling race invite,
Who grateful sound their melting lays,
By Nature taught their songs of praise
Inspiring gay delight.
How fresh from the reviving show'r,
Sweet odours from yon humid bow'r
Are borne on every breeze:
O Nature, still thy charms prevail,
When Art's exhausted efforts fail,
Thy simpler dress can please.
Thy kind associate Art may shine,
But when her touch would rival thine,
And paint each flow'r that blows,
Tho' she imparts the roseate bloom,
Thy hand alone the rich perfume,
The glowing life bestows.
But when the freezing blast annoys,
How soon his breath their charms destroys,
Stern messenger of fate!
Whoe'er thou art, O child of clay,
(The drooping flow'rets seem to say)
Here view thy transient state.
Here sage Reflection loves to raise
Her purest thoughts to sacred praise,
Beneath the fragrant shade;
Here, as she tastes the varied sweets,
With thee, O Wisdom, oft she meets,
Whose beauties ne'er shall fade.
With thee the pleasing path she treads,
On every plant a moral reads,
Imprest by hands divine;
And as the filmy leaf unfolds,
Her grateful eye with joy beholds
Creative goodness shine.
With Adoration's fervent voice,
Ye race of man in him rejoice,
Whose gifts your cares beguile;
Who o'er the garden, grove, and mead,
The flow'r-embroider'd robe has spread,
Who bids glad Nature smile.
If He, to cheer life's gloomy way,
Doth radiant Beauty's heav'nly ray
On all his works bestow,
What brighter beams of glory still
Await those eyes that make his will
Their constant light below.
Last updated January 14, 2019