by John Lars Zwerenz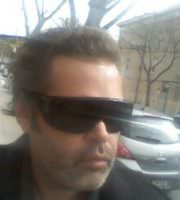 Her long, dark locks wavered in the breeze.
As my soul ascended above the trees,
All became a diamond light -
Brighter than any earthly sun.
I beheld her hair through a brilliant fountain,
As her pitch-black tresses were overcome
By the shine of flaming, silver pearls,
Until I fell into an azure sea
From where I saw her walking,
Walking very slowly,
Beside a teeming, stone wall -
Adorned with gilded vines.
She passed with the ineffable gracefulness
Of an angel immersed in gold,
In a dress of regal white,
As billows soft and laced with fragrance
Kissed her hair with tears.
From:
Ecstasy And Other Poems by John Lars Zwerenz
Last updated June 29, 2016