by Elizabeth Bentley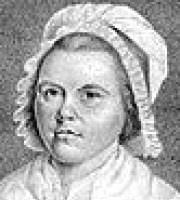 INFANT daughter of the Spring,
The first thy simple gifts to bring;
Thy modest flow'rs erect their heads,
Her form the pale-eyed primrose spreads;
The cowslip, ting'd with deeper hue,
Hangs impearl'd with nightly dew;
The daisy, half-immers'd in sleep,
Through opening lids begins to peep;
The violet yet with fadeless bloom,
Breathes o'er all her sweet perfume:
These and countless numbers more,
(As our eyes the meads explore)
In thy humble train appear,
That ne'er adorn'd the grand parterre.
In Winter's grasp no longer nipt,
The russet trees with green are tipt.
See, loosen'd from his icy chain,
The cherry foremost of the train,
Whose fleecy blossoms bursting o'er,
Promise a future crimson store,
Yet oft a frown o'ershades thy brow,
And chilling hail or nitrous snow,
Bids the tender buds retreat,
Sighing for Summer's genial heat.
Child of whim, thy tears are seen,
While smiles of sunshine dance between:
Haste to lead thy sister May,
Sweeter lass with aspect gay;
Her soft benignant beam shall chace
The pensive gloom from Nature's face:
She comes fresh verdure crowns the field,
April, adieu! thy sceptre yield;
Hark! the woodland chorists raise
Hymns of rapture, love, and praise.
Last updated January 14, 2019