by John Lars Zwerenz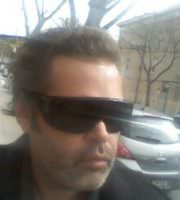 BEAUTY
The wistful strains of Mozart pass
In the dawning hues of wavering grass,
Beneath a rapturous sky of mahogany,
Exquisite with vistas of boundless beauty.
Your caresses which are of russet wine,
In concert with the morning's auriferous vine,
Welcome the lutescent sunshine,
Upon the turquoise horizon, glittering with dew.
(Last night, my love, I dreamt of you.)
Let us wander, let wander where
The brisk enchantment of the redolent air
Shall carry us to the belvederes of the spacious, marble square.
There we shall take long, languorous sips,
Of the courtyard's champagne, of the fountains' bliss,
Of the cool, iridescent, silver rain.
And there, in the scented umbrage, again and again,
I shall gladly kiss
The soft refrain
Of your celestial, soft and ruby lips.
John Lars Zwerenz
From:
Poems by John Lars Zwerenz
Last updated February 17, 2016