by John Lars Zwerenz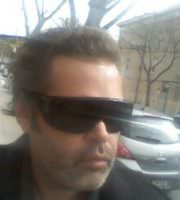 MY LADY IS LOVELY
My lady is lovely, my lady is fair;
She treads in the noonday, glistening light,
To the square, to the veranda, dreaming of the night,
In soft, saline breezes which sail through her hair,
Perfuming her tresses, gleaming in the sun.
She wanders amid the statuary,
Gathering blooms with delicacy,
Where slender, lavender brooklets run.
Her face is of an angel's, her eyes are of the sky;
They are sweet and of the eve, gently do they glow,
Like rain upon the streams, which glitter as they flow.
She mediates on love alone, pining with a sigh.
And when the alabaster moon ascends, she strolls amid the ponds,
Beneath the fragrant boughs, beneath the minty scented fronds.
JOHN LARS ZWERENZ
From:
A LADY FAIR AND OTHER POEMS
Last updated March 20, 2016